Hylium Industries inaugurates new Headquarters in Pyeongtaek, South Korea
Hylium Industries Leads the Liquid Hydrogen Era

We are thrilled to announce the inauguration of our new headquarters at the Pyeongtaek Poseung Industrial Complex.

On the 6th of September, we celebrated the completion ceremony of Hylium Industries' new headquarters. Our CEO, Kim Seo-young, passionately declared the "globalization of liquefied hydrogen," setting the tone for a new chapter in hydrogen mobility.

The sprawling 8,264 m² facility, covering a total floor area of 4,958 m², is now poised to produce cutting-edge liquefied hydrogen-related products. Our former Osan factory has been transformed into a hydrogen drone production hub, aligning perfectly with our vision for a sustainable future powered by liquefied hydrogen.

CEO Kim exudes confidence as he envisions a world where Hylium Industries' technology contributes to the proliferation of hydrogen charging stations across the globe, including the United States and Australia, and where liquefied hydrogen drones take flight worldwide. 🌎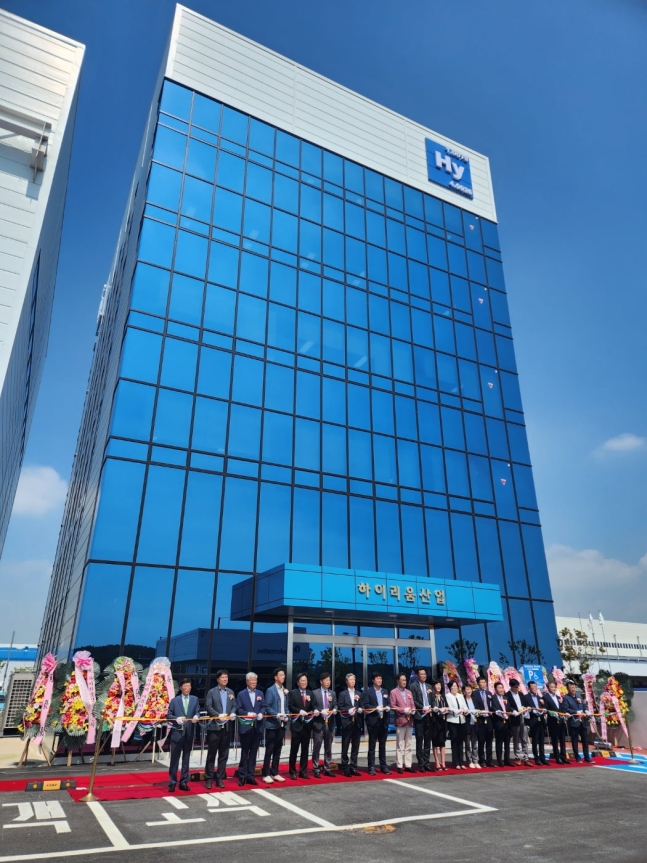 Hylium Industries is a trailblazer in liquefied hydrogen, boasting independently developed production, storage, and transportation safety technologies. Our impact is increasingly recognized not just domestically, but on the global stage.

Our technical partnership with Chart Industry of the United States has resulted in the manufacture of hydrogen liquefaction machines and liquefied hydrogen tank trailers capable of transporting 3 tons in Pyeongtaek. We are also experts in producing storage tanks ranging from 3 liters to 6,000 liters.

Our expansion knows no bounds, with a corporation established in California last year and a base in Shanghai, China. Our ambitions extend across the Atlantic Ocean, as we prepare for a journey from Senegal in Africa to Brazil in South America with the French Advanced Institute of Aeronautics and Astronautics (IASE SUPERO). We recently demonstrated a hydrogen-fueled drone in Essen, Germany, at the invitation of the city.

Thank you to all the attendees in person and spirit for being a part of our journey towards a sustainable future. Together, we're shaping a world powered by clean and efficient liquefied hydrogen technology.